September 5th & 6th– Weekend Schedule
CLOSED

If you're interested in volunteering, please contact us through Facebook or
Email at CoralSpringsRCTrack@Gmail.com.
Thank you for your help and bring your car, we just may need to test it out.
---
 South Florida Off  Road Championship Series II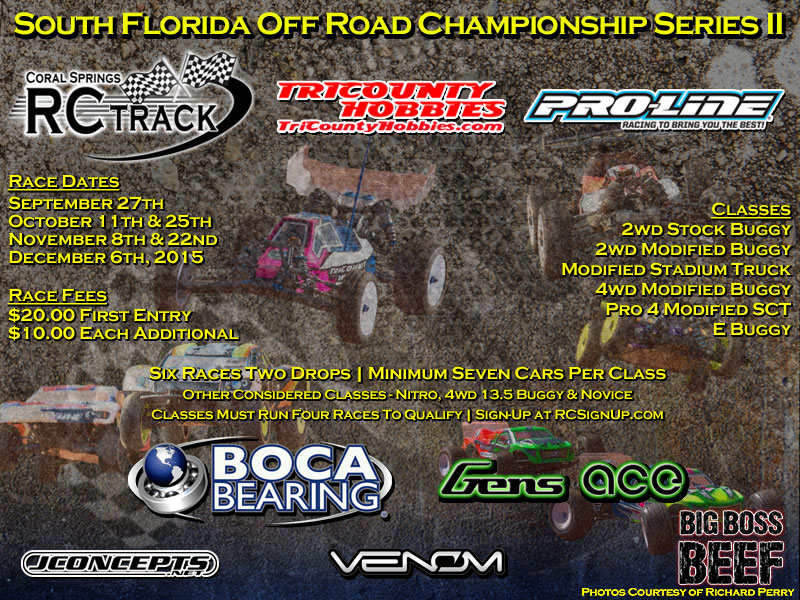 ---
Important Message
August 23, 2015: Due to the recent release of the new "Outlaw" batteries by LRP we feel the need to make an announcement on the legality at Coral Springs RC tracks.
EFFECTIVE IMMEDIATELY…
These batteries or any others with a nominal voltage above 7.4V will NOT be permitted in competition at either the Off Road or Oval tracks at this time. We will continue to follow any new developments in this new Lipo battery technology and revisit our decision if we notice a trend shifting toward allowing the use of these packs within the RC racing community.
Thank you!
---
Best of the Southeast Dirt Oval Series
4 Races – 1 Drop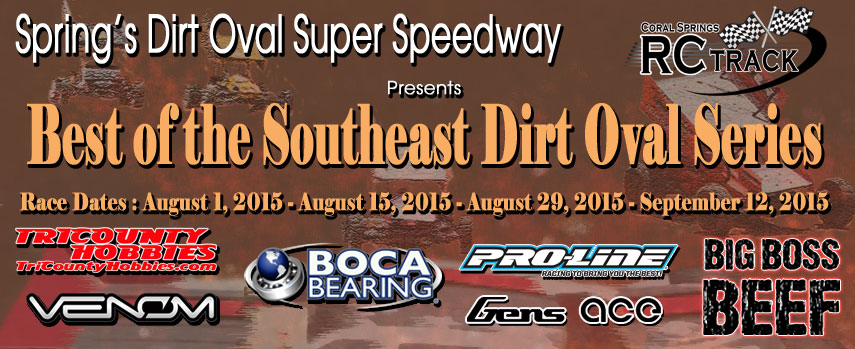 Awarded Classes
1/10 Sprint Car | 17.5 Late Model | 17.5 Bomber
Regular Race Classes Include
1/10 4WD Late Model | 1/10 EDM 13.5 | SC Modified |  1/8 Sprint | 1/8 Late Model
Race 4 – September 12, 2015 | Race 4 of the 17.5 Bomber Class TBA
Best of the Southeast Dirt Oval Series – Points Tabulation
---
The Coral Springs RC Track and it's officials have reserved the right to amend, modify and/or change any of the rules, terms and/or conditions at any time without prior notice. By participating in our event(s)/practices you are adhering to these terms. 
---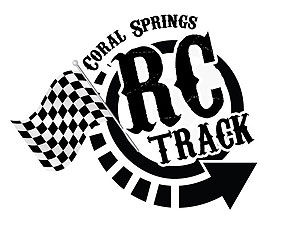 Welcome to the Coral Springs R.C. Track. We hope you come on out and enjoy our facility. Bring your kids and have a great time. We will be open every Saturday for practice pending scheduled race days, events and/or weather conditions. Gates open by 10 am and depending upon track conditions we'll start running at 10am until 3pm. Get current track status updates by checking out our tweets on the right sidebar, or follow us on Twitter @CSRCTrack. Off-Road club races will be held every other Sunday, gates will be opened at 8am and racing will start at 10am. Club races will be a combination of two qualifiers, Semi-Featured and Featured Mains. Each of the qualifiers and mains will last from five (5) to ten (10) minutes depending on the Race Director's discretion. All Racers must be a member and carry a R.O.A.R. membership card to participate. You can obtain a membership by filling out a R.O.A.R Membership Application. R.O.A.R. membership includes: $1,000,000 Liability Insurance protection, $10,000 Accident Medical Insurance, Membership card for R.O.A.R. events and a Complete R.O.A.R. Rulebook. The Coral Springs RC Track is a R.O.A.R. Sanctioned track which includes: ROAR Affiliation Certificate and number 2105 for the current calendar year, $1,000,000 Liability Insurance coverage for R.O.A.R. members ($2,000,000 aggregate), and Site Insurance for the city of Coral Springs, FL.
Information & Scheduling Please "click" on the Calender tab on the top menu to view all scheduling information, look over at our "Latest Tweets" section to the right or for up-to-the-minute information "follow us" on twitter @CSRCTrack.
Dirt Oval