November 21st &  22nd– Weekend Schedule
Weather Permitting
Saturday –  *Dirt Oval & Off Road Practice 10 AM – 3 PM
Sunday –  RAINED OUT
Race 5 – SFORCS II Moved to December 6, 2015
Race 6 SFORCS II Moved to December 20, 2015

TriCounty Hobbies will be holding a "I Need My RC Racing Fix" impromptu race on Sunday November 22, 2015. Store Opens 10 AM Racing Starts 11 AM.
*Must Have R.O.A.R. Membership | Practice Fee $5 Either or Both Tracks
Due to the heavy rains, awful track conditions and a poor weather forecast. We decided to move Race 5 to December 6, 2015 and push Race 6 to December 20, 2015. 
---
 South Florida Off  Road Championship Series II
Race Report 4
South Florida Off Road Championship Series II Points Tabulation Race 4
*A Main E Buggy Race Expanded Version Placement is not Correct – J. Lopez Won with 24 Laps
Race 4 of the South Florida Off Road Championship Series II had some of the best racing of this series. The track was fast with unbelievable traction.  2WD Stock Buggy was again packed with thirteen entries. Chris Intravia grabbed the early win. 2WD Mod. Buggy was up next with Jader Lopez taking the win. 4WD Mod. Buggy had Daniel Paz barely beating Corey Record by 1.173 seconds. 13.5 4WD Buggy brought Jeff Kranz his first win of the day. Daniel Paz took another first round win in Pro 4 Mod. SCT. The largest class, E Buggy had Jader Lopez winning the first round qualifier by 23.584. Luis Perez was victorious in Nitro Buggy bringing round 1 to an end.
Round 2 began with the first TQ point being awarded to Chris Intravia. Chris did a masterful job of winning both qualifiers and earning the pole position in the 2WD Stock Buggy A Main. 2WD Mod Buggy was very much like Stock. Round 1 winner Jader Lopez kept his position and earned the TQ point. Corey Record  won the extra point and pole spot in 4WD Mod Buggy. Jeff Kranz stayed on top in 13.5 4WD Buggy making him the guy to beat in the A Main. Daniel Paz ran his Pro 4 Mod SCT more like the leader of the "short bus" class, but he did well enough in the first qualifier to keep the TQ point and top spot. Jader Lopez continued his E Buggy domination and was well on his way to another 101. John Bertelsen had a great heat in Nitro giving him the TQ point and pole position for the final A Main.
 We started the Semi Mains with the E Buggy C Main and surprising entry Bart Collins easily took it with Pedro Agosto getting the bump to the B Main. The first B Main was 2WD Stock Buggy a close race between the top three but in the end Tristan Santiso and Carlos Gimenez went up to the Featured Main. Jack Espinosa and Jonathan Hutton easily lead the pack in the 4WD Mod Buggy B Main and got the bump. Shaun Quiros just keeps improving and is quickly becoming a force in the Pro 4 Mod SCT class. Shaun along with Laz Vega moved up into the A Main. Once again Bart Collins took the top spot with Loren Kretzschmar as they both moved up the the A Main in highly competitive E Buggy class.
The Featured Mains got underway with 2WD Stock Buggy, Chris Intravia beat Jeff Kranz by just 5.687 while surprisingly rising young racer Joshua Alfaro got the three. Corey Record surprised TQ Jader Lopez  with some great driving. Promising some awesome future battles to come. Jeff Kranz got the third spot in the "Gentleman's RC Racing Class" 2WD Mod. Buggy. In 13.5 4WD Buggy TQ Jeff Kranz ran a really bad lap, giving the top three away to David Iler, Matt Kirkpatrick and Tom Allen in that order. This was one of the best races seen in Coral Springs in a long time. With four lead changes throughout the race Jader Lopez and Corey Recorded both fought like champions. All the other racers were amazing allowing these two drivers to hold the dazzling spectacle we all witnessed. On the very last lap Corey got hung up giving Jader the edge and win. They ended up spitting the 100 points as Daniel Paz crossed in third. Pro 4 Mod. SCT was another solid race as Daniel Paz got his win virtually locking up the first place trophy with another 101. Second place Scott Delfino was only behind by 4.313 as more and more racers closed in on Paz's SCT dominance. "Burger Meister" Jack Espinosa ended in third as his racing improvement is only matched by his grilled burger culinary skills. The C and B Main winner Bart Collins decided he needed the trifecta taking the A Main. 3.133 behind him, Chris Intravia didn't make it easy though as Mike Mennella earned the third spot and points. In the final of the growing Nitro class Bart Collins once again first with Mike Mennella second and Luis Perez in third.
A lot of great racing as the racers start crunching the numbers because this is where every point now really matters. Some classes already have winners, but others are still wide open. With plenty of racing left, racers are jockeying for spots to break into the top three. There will be spoilers – anything can happen. These last two races will make or break those who live on the edge. Best of luck! Drive smart, considerate and give it your best!
---
The
South Florida Off Road Championship Series II
will begin on Sunday, November 27, 2015 and consist of a six (6) race points series with two drops. All classes will be available depending on entries. 2WD Stock Buggy, 2WD Modified Buggy, Modified Stadium Truck, 4WD Modified Buggy, Pro 4 Modified Short Course Truck and E-Buggy. Any additional class with a minimum of seven (7) entries per class for at least four (4) races, will be eligible and awarded trophies.  The awards ceremony will be several weeks after the final race and tabulation. Racers must run in at least four (4) races to be eligible for awards and an opportunity to win prizes. Points and placement tabulation will begin with the final results of the "A" main and/or last completed round, then counted through last entry of the class. Pointing structure will be, TQ = 1 Point, 1st = 100, 2nd = 99, 3rd = 98 and so on. Official race results and point tabulation will be uploaded and published at CoralSpringsRCTrack.com within twenty four hour of the conclusion of the race.
Sponsors: TriCounty Hobbies, Pro-Line, Boca Bearing, JConcept, Gens Ace, Venom, Big Boss Beef and Speed Demon Hobbies.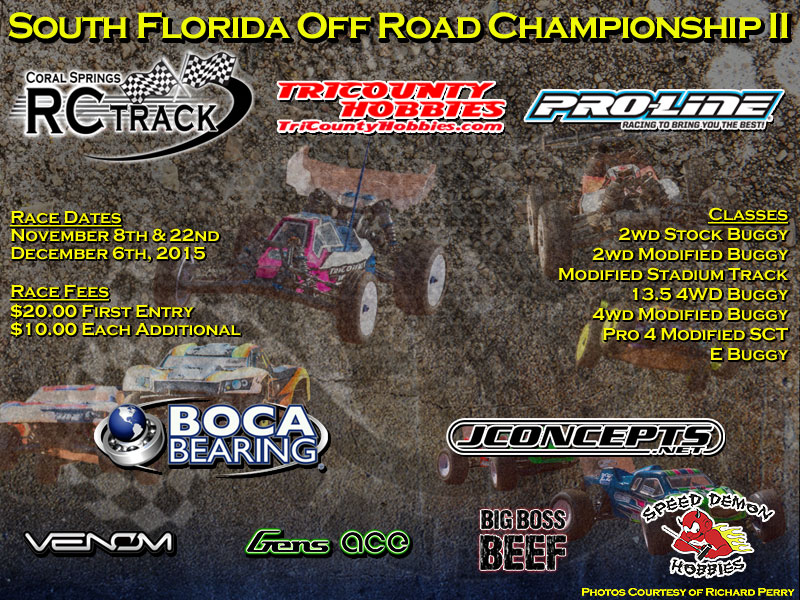 South Florida Off Road Championship Series II – Race Rules
Please read the disclaimer below…

Please make sure you have the correct transponders during registration. We will not check-in during qualifiers or mains.

We will be running the two (2) minute timer between qualifying heats with no grace periods.

The mains will be on a three (3) minute timer and there will be only a one (1), one minute grace period per main allowed.

After each heat, all racers must either marshal or have someone predetermined to take their place. This is your responsibility.

We may "tech" the cars at any time. If for some reason a racer misses tech, he/she will be disqualified from the day's race without a refund.

At no time will drivers be allowed to switch or be substituted. Both drivers will be disqualified from the day's race with no refunds.

Please remember to be courteous to your fellow racers and turn marshals. As well as marshal's do not watch the race and cover your areas. Tempers do flare and it is understandable; however, unruly behavior will be severely dealt with by the Track and Series Officials.

Each racer is responsible for their own equipment and are responsible in making sure it is working properly. Equipment malfunction may result in lost time, laps or disqualification.

In order to participant in the mains, the entry must have started in at least (1) one qualifier.

The race fees will be $20 for the first class and $10 each additional.

Additional rules will be announced shortly.
The Coral Springs RC Track and it's officials have reserved the right to amend, modify and/or change any of the rules, terms and/or conditions at any time without prior notice. By participating in our event(s)/practices you are adhering to these terms. 
---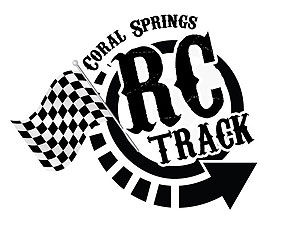 Welcome to the Coral Springs R.C. Track. We hope you come on out and enjoy our facility. Bring your kids and have a great time. We will be open every Saturday for practice pending scheduled race days, events and/or weather conditions. Gates open by 10 am and depending upon track conditions we'll start running at 10am until 3pm. Get current track status updates by checking out our tweets on the right sidebar, or follow us on Twitter @CSRCTrack. Off-Road club races will be held every other Sunday, gates will be opened at 8am and racing will start at 10am. Club races will be a combination of two qualifiers, Semi-Featured and Featured Mains. Each of the qualifiers and mains will last from five (5) to ten (10) minutes depending on the Race Director's discretion. All Racers must be a member and carry a R.O.A.R. membership card to participate. You can obtain a membership by filling out a R.O.A.R Membership Application. R.O.A.R. membership includes: $1,000,000 Liability Insurance protection, $10,000 Accident Medical Insurance, Membership card for R.O.A.R. events and a Complete R.O.A.R. Rulebook. The Coral Springs RC Track is a R.O.A.R. Sanctioned track which includes: ROAR Affiliation Certificate and number 2105 for the current calendar year, $1,000,000 Liability Insurance coverage for R.O.A.R. members ($2,000,000 aggregate), and Site Insurance for the city of Coral Springs, FL.
Information & Scheduling Please "click" on the Calender tab on the top menu to view all scheduling information, look over at our "Latest Tweets" section to the right or for up-to-the-minute information "follow us" on twitter @CSRCTrack.
Dirt Oval