May 30th & 31st– Weekend Schedule
Weather Permitting
Saturday – *Practice 10 am – 3 pm     

Sunday – Race 5 *TRI-TRACK SPRING RUSH at Coral Springs RC Track -Gates Open 8 am | Racing Starts at 10 am 
*Must Have R.O.A.R. Membership | Practice Fee $5
---
TRI-TRACK SPRING RUSH
Rain Schedule Update – Important Notice

If Race 5 at Coral Springs is rained-out, we will move Race 5 to TriCounty Hobbies and reschedule Coral Springs to Race 6 on June 6, 2015. Please make sure you are prepared for this possibility. This is one of the positives to having an indoor track in the mix. We will notify you as soon as possible if these types of changes will happen and a track official will stay at the track until 11:00 am to make sure everyone knows where to go. We will always keep the official schedule below unless poor weather forces us to move the venue. All tracks will get their 3 races per the series requirements.
TRI-TRACK SPRING RUSH – POINTS TABULATION
(Updated May 24, 2015)
The TRI-TRACK SPRING RUSH will be a combination of two series held at three tracks. Coral Springs RC Track, TriCounty Hobby Shop & Raceway and Broward Country RC Speedway (Mills Pond).  All 1/10 scale cars will be part of the nine (9) race series and will be allowed three (3) drops "one per track". The 1/8 and Nitro cars will have have a six (6) race series and will be allowed two (2) drops "one per track". To run and qualify for awards, there must be a minimum of six (6) cars to make a class. This will be a grueling nine (9) consecutive week series due to weather possibilities. Please stay informed as to race times and schedule altercations.
Race Schedule
Race 5 May 31, 2015 – Coral Springs Gates Open 8 am Racing Starts 10 am

Race 6 June 7, 2015 – TriCounty Hobbies – Store Opens 8 am Racing Starts 10 am

Race 7 June 13, 2015 – Mills Pond – Gates Open 10 am Racing Starts 1 pm

Race 8 June 21, 2015 – TriCounty Hobbies – Store Opens 8 am Racing Starts 10 am

Race 9 June 28, 2015 – Coral Springs Gates Open 8 am Racing Starts 10 am
---
TRI-TRACK SPRING RUSH
May 2, 2015 – Race 3
Race 3 was at Broward County RC Speedway A.K.A. Mills Pond. A staple in South Florida RC Racing. This track is designed for 1/8 E Buggies and Nitro and can be daunting for 1/10 classes, especially the 2WD Stock Buggies, but they came, ran and conquered. Race 3 got off to a rocky start, the infamous "Mills Pond Gremlins" were working their mischief with our laptop; however, mild manner, cool as a cucumber, Jessica Iler got all 80 entries signed-up and ready to go with only a 90 minute delay. A true miracle to say the least.
Round 1 started with a slick track as the 2WD Stock Buggy class had a few problems. Tom Allen got the first TQ of the day. Next 2WD Modified Buggy's with more power and ran like it. Jader Lopez easily took round  1 Top Qualifying in this class while making to look easy. Modified Stadium Truck was up next, the track was still loose, but that didn't mattered to Jeff Kranz as he took the top spot. In Round one of 4WD Modified Buggy, Gavin Butera took the early lead and kept it all the way through for the win. Pro4 Modified SCT had two full heats of rock em' sock em' carnage. After the clean-up and the dust settled. It was Daniel Paz victorious as the Top Qualifier. E Buggy was up next and these guys did everything they could to be dubbed the new "Basher" class. In the end; however, it was Jader Lopez's who got the TQ. Nitro Sportsman Buggy took the stage and Cesar Souza took the first round. Finally, Nitro Pro Buggy got it's chance and Luis Perez won with 20 seconds to spare. 
Round 2 began as the track started coming around. 2WD Stock Buggy was Tom Allen, A.J. Reynolds and Jared Cooper taking the first three spots into the mains. Tom had just under a 15 second cushion to win the extra point. Modified 2WD Buggy was a bit more exciting as Richard Hazbun came up from his first round fourth place finish, all the way up to taking away TQ from second place Jader Lopez. Ricardo Jordao kept his third place rounding out the top three for the mains. Jeff Kranz, Jared Cooper and Brett Hold captured 1, 2 and 3 in Modified Stadium Truck. 4WD Modified Buggy had some twists and turns with Daniel Chavez coming out on top getting the point and win. Johnathan Hutton was .610 behind and Gavin Butera just less than 3 seconds behind and ended up in third. Daniel Paz, Jeff Kranz and Tony Mazza finished in their starting order after the two SCT heats. Jader Lopez kept his cool and with less than 7 seconds beat Luis Perez for the E Buggy TQ point while Daniel Paz finished third. Sportsman Nitro had a shift as well, with James Wicker getting the point. followed by Nick Cotugno and Cesar Souza maintained his spot from Paul Holness (3rd Place Qualifier 2 finish) to stay in the number 3 spot for the mains. Luis Perez barely beat out Sebastian Hazbun by 3.963 to keep his TQ and point. As Mike Mennella ended up in the third.
Pro4 Modified SCT started the Semi featured mains. Tony Mazza and A.J. Reynolds were 2.777 apart as they both bump up into the "A". The final Semi was E Buggy as Matt Kirkpatrick and Jonathan Hutton moved up to the show. The Featured Mains began with 2WD Stock Buggy. Tom Allen won and got the 101 by 7.559 seconds over Jeff Kranz as Jared Cooper took the number three spot. Next up, Modified Stadium Truck, Jeff Kranz finally got his 101, Jared Cooper earned a 99 and Mike Honcho 98 was the best of his series. 2wd Modified Buggy had a flip-flop from their starting order with Jader Lopez winning the 100 points and Ricardo Jordao taking second. Top Qualifier Richard Hazbun dropped all the way down to third on a tough finish. Daniel Chavez took the TQ and ended up with 101 points to finally have his first big day of this series. Gavin Butera gave Daniel a great run coming up short by 3.984. Jonathan Hutton ended up in third by 7+ seconds. Pro4 Modified saw Daniel Paz get knocked off by Mr. Big Boss Beef himself, Jeff Kranz. While Daniel seemed sporadic and out of control, he kept coming back again and again. Just missing the mark and sharing 100 points with Jeff by 5.621 seconds. Felipe Rodriguez came in third to get his boost in points as well. Jader Lopez just owned the E Buggy class all day long and did as well for the "A" Main. Luis Perez and Mike Mennella second and third place finishes were separated by 8.259 seconds. Sportsman finished as it started, with James Wicker in the one, Cesar Souza two and Nick Cotugno taking third. Finally, Pro Nitro Buggy started it's 20 minute main and when the evening closed Luis Perez took the win easily with Sebastian Hazbun placing and Mike Mennella making the show. All in all, a long but fun day spent at an amazing facility. 
Because of last weeks rain-out Race 4 will be back at Broward County RC Speedway (Mills Pond) on May 23, 2015. Gates open at 10 am, racing starting at 1 pm. Race 5 is at Coral Springs RC Track on May 31, 2015. Gates opens at 8 am and racing starts at 10 am. A special thanks to all of our sponsors TriCounty Hobbies, JConcepts, Boca Bearings, Lead Finger Racing LFP, Maxy's Fuel & Cinco BT, Gens Ace, Tekno RC, Exotek Racing, Venom, AKA, Atomik RC, Speed Demon Hobbies and Big Boss Beef. With out these great companies, none of these events would be possible. 
Series Rules
Please read the disclaimer below…

Please make sure you have the correct transponders during registration. We will not check in during qualifiers or mains.

We are planning on running the two (2) minute timer between qualifying heats with no grace periods.

The mains will be on a three (3) minute timer and there will be only a one (1), one minute grace period per main allowed.

After each heat, all racers must either marshal or have someone predetermined to take their place. This is your responsibility.

We may "tech" the cars at any time. If for some reason a racer misses tech, he/she will be disqualified from the day's race with no refunds.

At no time will drivers be allowed to switch or be substituted. Both drivers will be disqualified from the day's race with no refunds.

Please remember to be courteous to your fellow racers and turn marshals. As well as marshal's do not watch the race and cover your areas. Tempers do flare and it is understandable; however, unruly behavior will be severely dealt with by the Track and Series Officials.

Each racer is responsible for their own equipment and are responsible in making sure it is working properly. Equipment malfunction may result in disqualification. 

In order to participant in the mains, the entry must have started in at least (1) one qualifier.

The race fees will be $20 for the first class and $10 each additional.

Additional rules will be announced shortly.
The TRI-TRACK SPRING RUSH and it's officials have reserved the right to amend, modify and/or change any of the terms and conditions at any time without prior notice. By participating in our event(s) you are adhering to these terms. 
---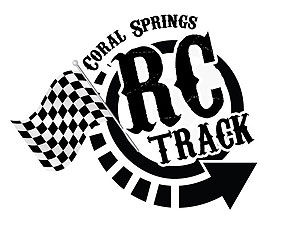 Welcome to the Coral Springs R.C. Track. We hope you come on out and enjoy our facility. Bring your kids and have a great time. We will be open every Saturday for practice pending scheduled race days, events and/or weather conditions. Gates open by 10 am and depending upon track conditions we'll start running at 10am until 3pm. Get current track status updates by checking out our tweets on the right sidebar, or follow us on Twitter @CSRCTrack. Off-Road club races will be held every other Sunday, gates will be opened at 8am and racing will start at 10am. Club races will be a combination of two qualifiers, Semi-Featured and Featured Mains. Each of the qualifiers and mains will last from five (5) to ten (10) minutes depending on the Race Director's discretion. All Racers must be a member and carry a R.O.A.R. membership card to participate. You can obtain a membership by filling out a R.O.A.R Membership Application. R.O.A.R. membership includes: $1,000,000 Liability Insurance protection, $10,000 Accident Medical Insurance, Membership card for R.O.A.R. events and a Complete R.O.A.R. Rulebook. The Coral Springs RC Track is a R.O.A.R. Sanctioned track which includes: ROAR Affiliation Certificate and number 2105 for the current calendar year, $1,000,000 Liability Insurance coverage for R.O.A.R. members ($2,000,000 aggregate), and Site Insurance for the city of Coral Springs, FL.
Information & Scheduling Please "click" on the Calender tab on the top menu to view all scheduling information, look over at our "Latest Tweets" section to the right or for up-to-the-minute information "follow us" on twitter @CSRCTrack.
Dirt Oval