July 4th & 5th– Weekend Schedule
Weather Permitting
Saturday
*Off Road Track & Dirt Oval – Practice 10 AM – 3 PM
Sunday
Springs Dirt Oval Super Speedway Race
Gates Opens 8 AM – Racing Starts 10 AM
*Must Have R.O.A.R. Membership | Practice Fee $5
---
TRI-TRACK SPRING RUSH
Final Points Tabulation
(Updated June 28, 2015 – With Drops)
Please take a look at the final points tabulation and contact me (CoralSpringsRCTrack@gmail.com) if there are any issues or discrepancies. On Wednesday morning I will order the trophies, so please double check and make sure your name is spelled correctly.
The Winners
2 WD Stock Buggy 1. Jeff Kranz 2. Tom Allen 3. Jonathan Hutton
2WD Modified Buggy 1. Bart Collins 2. Daniel Chavez 3. Loren Kretzschmar
Modified Stadium Truck  1. Bart Collins 2. Jeff Kranz 3. Joshua Alfaro
4WD Modified Buggy 1. Gavin Butera 2. Jonathan Hutton 3. Jack Espinosa
Pro 4 Modified SCT 1. Daniel Paz 2. Jeff Kranz 3. Gavin Butera
E Buggy 1. Bart Collins 2. Michael Mennella 3. Daniel Paz
Sportsman Buggy Nitro 1. James Wicker 2. Paul Holness 3. Nick Cotugno
Pro Buggy Nitro 1. Bart Collins 2. Michael Mennella 3. Mike Bellotti
Congratulations to all winners and everyone who participated in the
TRI-TRACK SPRING RUSH!
---
TRI-TRACK SPRING RUSH 
June 21, 2015 – Race 8
Race 8 of the TRI-TRACK SPRING RUSH closed out the series on TriCounty Hobbies new carpet track. Every racer got a little bit of a surprise when they saw a new layout, but after a heavy practice load, the layout was deemed a success. The points are tightening up and some of the winners have already staked their claim to their trophies. There are still a few coveted spots and opportunities to win some marble topped with metal at the awards ceremony. The day was extremely hot and it didn't matter because we were all inside with the air conditioning. Plus, free food and prizes because of Father's Day. Just one of the few ways all three tracks and our sponsors can say thank you. The $50 Boca Bearing Gift Card went to Jay Natoli, then we gave out some Big Boss Beef, four $50 TriCounty Gift Cards and the Team Associate T5M went to Bart Collins. 
Round one 2WD Stock went to Tom Allen by a lap. John Bertlesen easily took 2WD Modified Buggy. Corey Record did some spoiling and got the win in Stadium Track. 4WD Modified Buggy was spoiled by TriCounty owner Sean Kersten and ending the round was Daniel Paz with the TQ in that lightning fast Losi. Round two got under way with greasy fingers and full bellies thanks to Coral Springs RC Track's VP Patrick Blankenbiker taking the TQ in grillin'. First round winner Tom Allen held on for the point in 2WD Stock as John Bertelsen did the same in 2WD Modified. However, Keff Kranz was not ready to just roll over, he grabbed the TQ and point from Corey Record by 0.669 in Stadium Truck. Gavin "The Hammer" Butera said, "no point for you" and earned his point by over four seconds. Finally, the last race before the mains and Danile Paz put up an exclamation point with his eight second plus win for another TQ and locking up the Pro 4 Modified SCT class for the series.
Only one Semi Main race and it was a good one. None of these four guys wanted to be left out. Amaury Torres easily took the number one bump-up spot but the last three guys battles it out like gladiators…literally! When the cars were untangles and the bodies cleared…it was Jeff Jones surviving to get the second bump and a spot in the A Main.
Ten cars down to nine, eight foot lanes and a lot of turns made this 2WD Stock Buggy race one to remember. It was mayhem and they loved it. When the buzzer sounded Tom Allen got the win and TQ, Jeff Krants 2.334 behind closing in for second as rookie sensation A.J. Reynolds grabbed third. 2WD Modified Buggy's A Main was not as stacked and while faster, had a surprisingly large sized separation between John Bertelsen's TQ win, Daniel Chavez's second place finish and Corey Record's third. Stadium Truck TQ Jeff Kranz was overtaken by Jader Lopez with Corey Record finishing in third. Sean Kersten stole the 101 out of the clutches of Gavin by 0.067 even though he has the 1st Place 4WD Modified Buggy trophy already engraved. Corey Record barley finished third by only 2.339 behind Gavin. The finale of the TRI-TRACK SPRING RUSH and the Pro 4 Modified class had the most polite and courteous driving of the series…NOT! From the start it was an out of control free-for-all. Hacker hacking hacker after hacker hacked the hacker. Looks like next time, we won't put ten high powered cars in a small area and expect a love-fest. Okay, so the order on the sheets was not the scoring order. Here is the official order, just like last week, the number one racer in this class won with no issues, (How does he do it?). Daniel Paz won, owned and gets the first place trophy in the series. Jeff Kranz was tangles up early with Jeff Record and Kranz, with no pressure and in good form and sportsmanship, concede the position to Record. Thank you Jeff Kranz, even though you did not know that you already won the second place trophy. 
Race 8 is in the books and race 9 at Coral Springs will be a great conclusion to an awesome series. Gates opens at 8 am and racing starts at 10 am. Once again, thanks to TriCounty Hobbies, JConcepts, Boca Bearings, Lead Finger Racing LFP, Maxy's Fuel & Cinco BT, Gens Ace, Tekno RC, Exotek Racing, Venom, AKA, Atomik RC, Speed Demon Hobbies, Ztw Brushless Controls and Big Boss Beef.
---
Series Rules
Please read the disclaimer below…

Please make sure you have the correct transponders during registration. We will not check in during qualifiers or mains.

We are planning on running the two (2) minute timer between qualifying heats with no grace periods.

The mains will be on a three (3) minute timer and there will be only a one (1), one minute grace period per main allowed.

After each heat, all racers must either marshal or have someone predetermined to take their place. This is your responsibility.

We may "tech" the cars at any time. If for some reason a racer misses tech, he/she will be disqualified from the day's race with no refunds.

At no time will drivers be allowed to switch or be substituted. Both drivers will be disqualified from the day's race with no refunds.

Please remember to be courteous to your fellow racers and turn marshals. As well as marshal's do not watch the race and cover your areas. Tempers do flare and it is understandable; however, unruly behavior will be severely dealt with by the Track and Series Officials.

Each racer is responsible for their own equipment and are responsible in making sure it is working properly. Equipment malfunction may result in disqualification. 

In order to participant in the mains, the entry must have started in at least (1) one qualifier.

The race fees will be $20 for the first class and $10 each additional.

Additional rules will be announced shortly.
The TRI-TRACK SPRING RUSH and it's officials have reserved the right to amend, modify and/or change any of the terms and conditions at any time without prior notice. By participating in our event(s) you are adhering to these terms. 
---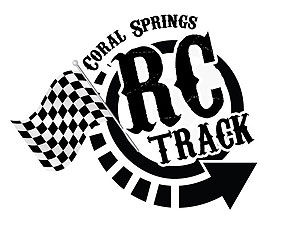 Welcome to the Coral Springs R.C. Track. We hope you come on out and enjoy our facility. Bring your kids and have a great time. We will be open every Saturday for practice pending scheduled race days, events and/or weather conditions. Gates open by 10 am and depending upon track conditions we'll start running at 10am until 3pm. Get current track status updates by checking out our tweets on the right sidebar, or follow us on Twitter @CSRCTrack. Off-Road club races will be held every other Sunday, gates will be opened at 8am and racing will start at 10am. Club races will be a combination of two qualifiers, Semi-Featured and Featured Mains. Each of the qualifiers and mains will last from five (5) to ten (10) minutes depending on the Race Director's discretion. All Racers must be a member and carry a R.O.A.R. membership card to participate. You can obtain a membership by filling out a R.O.A.R Membership Application. R.O.A.R. membership includes: $1,000,000 Liability Insurance protection, $10,000 Accident Medical Insurance, Membership card for R.O.A.R. events and a Complete R.O.A.R. Rulebook. The Coral Springs RC Track is a R.O.A.R. Sanctioned track which includes: ROAR Affiliation Certificate and number 2105 for the current calendar year, $1,000,000 Liability Insurance coverage for R.O.A.R. members ($2,000,000 aggregate), and Site Insurance for the city of Coral Springs, FL.
Information & Scheduling Please "click" on the Calender tab on the top menu to view all scheduling information, look over at our "Latest Tweets" section to the right or for up-to-the-minute information "follow us" on twitter @CSRCTrack.
Dirt Oval