**********Important Information**********
HURRY and SIGN-UP at rcsignup.com (below) for the Grand opening Weekend Event. This will ensure that your class will run. There's a five (5) entry minimum per class for Saturday's Dirt Oval Races and a seven (7) entry minimum per class for Sunday's Off Road Races.
---
December 7th & 8th  – Weekend Schedule

Saturday – Practice *11am-ish -3pm Off Road | Dirt Oval – CLOSED
Sunday – CLOSED
*In order to have both tracks prepared for the Grand Opening Weekend Event, we'll be doing a full maintenance on them Saturday morning. This may cause delays and disruptions for the off road practice. The Dirt Oval track will be closed for practice this weekend. For up-to-the-minute official information and texts, sign-up to our rainout.net account, twitter @CSRCTrack and visit CoralSpringsRCTrack.com.

Hurry up and sign-up at rcsignup.com for Grand Opening Weekend Event December 14th & 15th. Brought to you by TriCounty Hobbies and The Coral Springs RC Track. Saturday December 14th will be Dirt Oval Racing and on Sunday December 15th Off Road Racing.
Every paying racer will receive 1 (one) ticket per day for participation. After the Dirt Oval race we will have a trophy ceremony presenting the top three "A" Main winners with trophies.
If you pay to race and participate in both days, you will receive and second ticket.
Throughout the event we will pull tickets for giveaways. PLEASE KEEP YOUR TICKET(s) After the entire event, we'll put all the tickets together, including the ones that won items during the event. After the Off Road Race and trophy ceremony we'll  draw the Big Prizes of a $50.00 TriCounty Hobbies Gift Card, a $100.00 TriCounty Hobbies Gift Card and The Grand Prize of a Losi 22 2.0 Kit courtesy of TriCounty Hobbies. Winners must be present to accept all gifts or we'll redraw until a winner is found.
Classes coming soon…
****************IMPORTANT INFORMATION****************
The track(s) will be closed the weekend of November 30th & December 1st, 2013.
We'd like to wish everyone a Happy Thanksgiving and a wonderful weekend.
---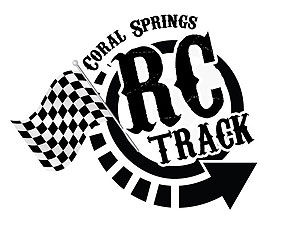 Welcome to the Coral Springs R.C. Car Track. We hope you come on out and enjoy our facility. Bring your kids and have a great time. Practice will be open every weekend pending scheduled race days, events and weather conditions. Gates are open from 10am until 3pm pending weather and track condition. Get current track status updates by checking out our tweets on the right sidebar, or follow us on Twitter
CoralSpringsRCTrack.Off-Road club races will be held every other Sunday, gates will be opened at 8am and racing will start at 10am. Club races will be a combination of two qualifiers and an "A Main" event. Each qualifier as well as the main will last for a total of five minutes. You must be and carry a R.O.A.R. membership card to participate. You can obtain a membership by filling out a R.O.A.R Membership Application.
ROAR membership includes: $1,000,000 Liability Insurance protection, $10,000 Accident Medical Insurance, Membership card for ROAR events and a Complete ROAR Rulebook.
The Coral Springs RC Track is a R.O.A.R. Sanctioned track which includes: ROAR Affiliation Certificate and club number for the current calendar year, $1,000,000 Liability Insurance coverage for your ROAR races ($2,000,000 aggregate), Site Insurance application to add additional insureds if your track location requires it, Sanctioned event application for racing events, Eligibility to bid on Regional and National Championship events, Free listing of your club or track on the ROAR website and a copy of ROAR's official rulebook containing various scale and safety rules.
Race Days
Gates open 8:00am - Registration 8:30am-9:45am
No race entries will be accepted after 9:45am.
We race 1/10 and 1/8 scale classes with a minimum 5 entries per class.
Race Classes
Stock Buggy (17.5 Blinky)
Stock Truck (17.5 Blinky)
Stock Short Course - A.K.A. Pro 2 Stock (17.5 Blinky)
Mod Short Course - A.K.A. Pro 2 Modified
Mod Buggy
Mod Truck
8th Scale E-Buggy - A.K.A. 1-8 Scale E Buggy
4wd Mod Buggy - A.K.A.  4wd Mod
4wd Short Course – A.K.A. Pro 4 Modified
Racing Fee:
There will be a $15.00 fee for your first entry, and $5.00 per each additional entry.
Practice Days:
Weather permitting, every Saturday with the exception of special events and circumstances. The practice fee will be $5 per track. If you run on both tracks, it will cost $10. Please, no testing or trying out. You must have a R.O.A.R. membership & wristband to run.
Information & Scheduling
Please "click" on the Calender tab on the top menu to view all scheduling information, look over at our "Latest Tweets" section to the right or for up-to-the-minute information "follow us" on twitter @CSRCTrack.
Off Road Track

Dirt Oval