***Weather Permitting***
October 25th & 26th – Weekend Schedule
Saturday –  

Practice 10am-3pm – Off Road & Dirt Oval

Sunday –  CLOSED
Just two more Saturdays to practice on the new layout until the start of the
South Florida Off Road Championship Series.
---
The South Florida Off Road Championship Series will begin on Sunday, November 2, 2014 and consist of a six (6) race points series with two drops. All classes will be available depending on entries. 2WD Stock Buggy, 2WD Modified Buggy, 4WD Modified Buggy, Pro 4 Modified Short Course Truck and E-Buggy were that last series classed with awards. Any additional class with a minimum of seven (7) entries  per class for at least four (4) races, will be eligible and awarded trophies. More details coming soon…
Sponsors - TriCounty Hobbies,  JConcepts, Panther, Tekno and Exotek.
We reserve the right to amend, modify or change any of the terms and conditions at any time and without prior notice. By participation in this event you are adhering to these terms.
---
2014 Dirt Oval Summer Series 
We've finished our first Dirt Oval Series. The final tabulations are in and we're planning the awards ceremony. Once we're done and order the awards, we'll post the date.
2014 Dirt Oval Summer Series Final Tabluation
---
Update on the Track…

We're very close to completing our new layout. We made a lot of progress this weekend and did a lot more that just a new layout. We've repaired and upgraded a good portion of the electrical system to make it more efficient and safer. We also repaired and/or replaced about 70% of the framing area around the track. We still have some work to do, but we're heading in the right direction. Finally, we constructed a new layout. It's about 80% complete and we're confident we'll have it ready for practice some time Saturday morning.
I'd like to thank Patrick, Pak, Fred Rodriquez, Phil Serio, Glenn Carlson, Jose Mato, Ed & AJ Reynolds, Daniel Chavez, and of course, Keith Lane for all the hard work they put into the track this weekend.  Also, Mike Applegate for all his guidance and help in making the Coral Springs Track all it can be. Glenn Worthington and Tommy Dionese for driving roughly 3 hours and working 3 and a half to get the Dirt Oval in shape for an awesome race this past Sunday. 
A Special thanks to Brett Hold for donating the use of  the equipment and fuel that made this all happen.  

---
2014 SUMMER CROSS OVER POINTS SERIES AWARDS CEREMONY IMAGES
---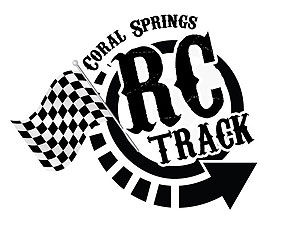 Welcome to the Coral Springs R.C. Track. We hope you come on out and enjoy our facility. Bring your kids and have a great time. Practice will be open every weekend pending scheduled race days, events and weather conditions. Gates are open from 10am until 3pm pending weather and track condition. Get current track status updates by checking out our tweets on the right sidebar, or follow us on Twitter @CSRCTrack. Off-Road club races will be held every other Sunday, gates will be opened at 8am and racing will start at 10am. Club races will be a combination of two qualifiers and an "A Main" event. Each qualifier as well as the main will last for a total of five minutes. You must be a member and carry a R.O.A.R. membership card to participate. You can obtain a membership by filling out a R.O.A.R Membership Application. R.O.A.R. membership includes: $1,000,000 Liability Insurance protection, $10,000 Accident Medical Insurance, Membership card for R.O.A.R. events and a Complete R.O.A.R. Rulebook. The Coral Springs RC Track is a R.O.A.R. Sanctioned track which includes: ROAR Affiliation Certificate and club number for the current calendar year, $1,000,000 Liability Insurance coverage for R.O.A.R. members ($2,000,000 aggregate), and Site Insurance for the city of Coral Springs, FL.
Information & Scheduling Please "click" on the Calender tab on the top menu to view all scheduling information, look over at our "Latest Tweets" section to the right or for up-to-the-minute information "follow us" on twitter @CSRCTrack.
Dirt Oval