December 20th & 21st – Weekend Schedule
Saturday –  Practice 10am-3pm – Off Road & Dirt Oval

Sunday – CLOSED – Holiday Break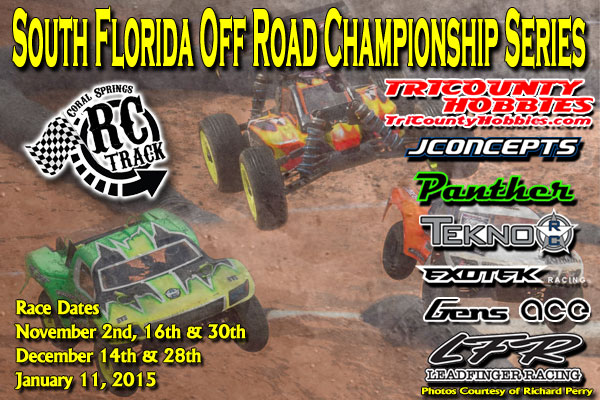 ---
South Florida Off Road Championship Series Newest Sponsor – LEADFINGER RACING

Once again, we are proud to announce, LEADFINGER RACING joining our ever growing family of sponsors. Chris Schaefer CEO/LEADFINGERR RACING has always supported the Coral Springs RC Track and now, the South Florida Off Road Championship Series. LEADFINGER RACING is a Florida company that's growing fast. LFR is all about serious products, for serious racers, who are serious about winning.  We believe Chris sums it up best, "As owner of LEADFINGER, it is my goal to bring interest to the ever growing hobby we call R.C. Racing. It is my passion, to benefit racers with American quality, reliability and durability. In all LFR products. I will stand behind it and drive my team forward, ahead of the competion.".
---
Race 4 Recap:
South Florida Off Road Championship Series – Race 4
December 14, 2014
Here we go again, Race 4's 137 entries gave us a grand total of 518 entries for the series. Gates opened an hour early at 7 AM and the qualifiers got underway by 9 AM with 2WD Stock Buggy, 2WD Modified Buggy, Modified Truck, 4WD Modified Buggy, Pro 4 Modified Short Course Truck and E Buggy. The track started off a bit slick but grooved up just past the midway point in the first round. Round two went off without a hitch as times got faster and additional laps were counted. The tight racing throughout the two round, 32 heat qualifiers. Gave us a taste of what to expect in the mains.
The Semi-Featured Mains started with a "D" Main for Pro 4 Mod. SCT with 2 bump-ups and a lot of full contact racing. The "C" Mains added classes and bumping two more racers into the "B" Mains. Once again, there were some hard fought battles with everyone in the five "B" main classes doing everything they could to get into the "A". The highlight was during the finale when Jessica "show me the money" Idler won the E Buggy "B" Main to get her spot in the show.
The Featured Mains started just before 2 PM with 2WD Stock Buggy. This race was one of the most consistent top four running races ever witnessed. It was almost surreal watching them patiently waiting for that perfect opportunity to take the car in front. Dan Borkowicz and Erik Everett placement flip-flopped gave Dan the win. Reuben Diaz finished a very close third with a 12 5:05.851 verses Dan's 12 5:01.495. The 2WD Mod. Buggy race was up next with Daimon Borkowicz easily taking the win, followed by Richard Hazbun and Jader Lopez. Mod. Truck's "A" main was a stacked class and Daimon Borkowicz took the "W" with room to spare, but Jonathan Paulk and Reuben Diaz fought it out for that number two spot, Jonathan ended up edging Reuben out by 0.350. Next up 4WD Mod. Buggy with the top three starters ended up in the the top three spots. Chris Viesins jumping up from third to second, while Sebastian Hazbun dropping to third. Daimon Borkowicz won with a 14 5:18.327 and the day's fastest lap of 23.248. Pro 4 Mod SCT was up and the third and forth place brother's racing team of Daniel Paz and Yamig Torres bashed their way to one and two. Chris Intravia slipped from two to three. Finally, "10 minutes of madness" started just like that. Chris Viesins started and owned the top spot for the win. Lazar "Lazi, VHAAAT!" Janos began at four and finished in second. Jeff Kranz qualified at third and finished… at third.
All in all a great day with awesome racing.  A special thanks to all the JConcepts  Super Cup Round 4 Racers who stayed over and added some extra competition and excitement. We have two more races, December 28th and January 11, 2015. We're looking forward to seeing you soon. Merry Christmas, Happy Hanukkah and any other holiday you may be enjoying.
South Florida Off Road Championship Series – Race 4 – December 14, 2014
South Florida Off Road Championship Series Race 4 – Results 12/14/14
Expanded SFORCS Race 4 Results 12/14/14 (Full Day Includes Qualifiers)
South Florida Off Road Championship Series – Race 4 Points Tabulation 12/14/14
The South Florida Off Road Championship Series has begun on Sunday, December 28, 2014 we will run Race 5 of the six (6) race points series with two drops. Classes are 2WD Stock Buggy, 2WD Modified Buggy, Modified Stadium Truck, 4WD Modified Buggy, Pro 4 Modified Short Course Truck and E-Buggy. Due to the four (4) race minimum, no additional class or type(s) of car may participate in the remainder of this series.
South Florida Off Road Championship Series – Sponsors

TriCounty Hobbies,  JConcepts, Panther, Tekno, Exotek and Gens Ace.
Addition Information Recaps and Standings
The Coral Springs R.C. Track and it's officials have reserved the right to amend, modify and/or change any of the terms and conditions at any time and without prior notice. By participating in our event(s) you are adhering to these terms. 
---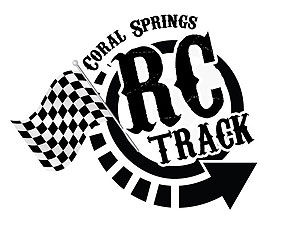 Welcome to the Coral Springs R.C. Track. We hope you come on out and enjoy our facility. Bring your kids and have a great time. Practice will be open every weekend pending scheduled race days, events and weather conditions. Gates are open from 10am until 3pm pending weather and track condition. Get current track status updates by checking out our tweets on the right sidebar, or follow us on Twitter @CSRCTrack. Off-Road club races will be held every other Sunday, gates will be opened at 8am and racing will start at 10am. Club races will be a combination of two qualifiers and an "A Main" event. Each qualifier as well as the main will last for a total of five minutes. You must be a member and carry a R.O.A.R. membership card to participate. You can obtain a membership by filling out a R.O.A.R Membership Application. R.O.A.R. membership includes: $1,000,000 Liability Insurance protection, $10,000 Accident Medical Insurance, Membership card for R.O.A.R. events and a Complete R.O.A.R. Rulebook. The Coral Springs RC Track is a R.O.A.R. Sanctioned track which includes: ROAR Affiliation Certificate and club number for the current calendar year, $1,000,000 Liability Insurance coverage for R.O.A.R. members ($2,000,000 aggregate), and Site Insurance for the city of Coral Springs, FL.
Information & Scheduling Please "click" on the Calender tab on the top menu to view all scheduling information, look over at our "Latest Tweets" section to the right or for up-to-the-minute information "follow us" on twitter @CSRCTrack.
Dirt Oval